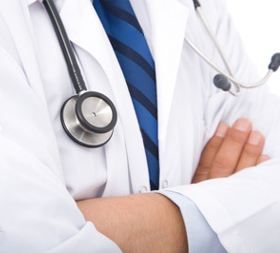 Today started fairly early with a trip to the surgeon to discuss the port for my chemo. The port, which is about the size of a quarter only thicker, is placed under the skin under general anesthesia. There are two potential risks to the surgery: 1) infection (no surprise there); and 2) a punctured lung (let's not do that). The person who does the surgeon's scheduling is out this week, so someone is supposed to call me either this afternoon or tomorrow with a day/time. Most likely early next week.
The next stop was to have my blood drawn to check my sodium again. I only got stuck once this time, so that appointment was pretty uneventful. Since I haven't yet received a call to go to the hospital, I'll assume my sodium level is at least not in the critical range. I'll call tomorrow to get the actual number.
My final appointment was with the radiation oncologist. Unlike the oncologist who said he thought my tumor grew slowly, the radiation oncologist thinks I have a very aggressive type of cancer that likely grew quickly. He showed me the pathology report, which seemed to back up what he was saying. He did say that the oncologist did all the same tests he would have done and that he's in total agreement with the treatment plan (chemotherapy and radiation).
My radiation therapy will be done at the same time as my chemo. The doctor said he'd like to start it a week from Monday. Five days a week for seven weeks. Side effects are redness at the radiation site, throat pain and difficulty swallowing. I'll probably have to switch to a softer diet (maybe even just Boost and Ensure). There's not a lot they can do to relieve the side effects, but he said if I don't muscle through it and end up losing too much weight, they'll have to put me in the hospital and insert a feeding tube. That would also interrupt my therapy, in which case it's less likely to be effective. He told me to try to put on some weight over the next few weeks.
The radiation oncologist agreed with the oncologist that there's a good chance this is curable with treatment. If the radiation and chemo don't work, the only other option is to remove my voice box. I can't even think about that.
On Monday, I'll meet with the oncologist again to talk about my chemo. No word on the bone marrow biopsy yet, but this doctor agreed with the other one that it will most likely be negative.
In the meantime, my head hurts. Almost all day every day. I've tried Tylenol and ibuprofen, but nothing makes it stop. I took some Excedrin Migraine yesterday which stopped it for most of the day, but all that caffeine made me so sick I'm not sure it was worth it.
Needless to say, I'm more than a little overwhelmed by all of this, but still trying to take things one day at a time.