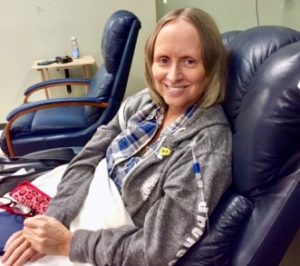 I had to spend four days in the hospital, but I finally got some Samsca to help with my sodium. I ended up with 48 doses (15 mg each). I was hoping for 60, but am happy with what I got.
While I was still in the hospital, I asked my oncologist if he knew of any clinical trials for small cell lung cancer because I really didn't want to continue with chemo. He told me he had a new immunotherapy drug for me to try and we'd talk about it the next time I came to his office.
The new drug is called Tecentriq, and I've had two doses so far. The main side effect is fatigue, but it also makes me a little loopy for a day or so after I take it. On the plus side, the drug company will pay for it as long as I'm on it, which is a huge relief. I asked my oncologist if this was an old drug or something new. He said the Opdivo came out first, followed by the Tecentriq, and then the Keytruda. So it hasn't been out for more than a few years.
The Opdivo and the Keytruda are basically the same drug. They're both checkpoint inhibitors. Tecentriq is a monoclomal antibody. For those who are interested, here's an explanation of how both types of drugs work. It's all Greek to me.
I asked the oncologist what he thought of me switching from the chemo to the Tecentriq in terms of efficacy. His response was that we're again in uncharted territory. But we managed to get about a year and a half out of the Keytruda. And his hope is that we can get at least another year from this drug, at which time he believes there will be new drugs available. Sounds like a plan to me.
My treatments are every three weeks. The next one is on September 12. After the October 3 treatment, we'll do another scan. The sodium is actually a better indicator of whether or not the treatment is working, but it'll still be good to know whether or not my tumor is growing and if the cancer has spread.
In the meantime, my sodium continues to drop despite the Samsca, so I'm going to have to start taking more. If the Tecentriq doesn't start doing it's job quickly, I see a lot more hospital days in my future in an attempt to get more pills.
That's all for now. Thanks for sharing my journey with me.
Julie