I am finally in complete remission. My last PET scan was clean, and I'm off the Samsca. My sodium is holding at about 131. A little on the low side, but not dropping. I'm not completely off the Gatorade yet, but I'm pretty sure that will happen when I see my nephrologist on August 3.
You'd think I'd feel this huge sense of relief knowing I'm in remission, but I don't. I think so much has happened over the last few years I'll be waiting for the other shoe to drop for quite some time yet.
The fog has finally lifted from the narcotic withdrawal, and I'm beginning to feel human again. Or whatever the "new human" is. I'm still a long way from what I'd call normal.
The last time I saw my oncologist was four weeks ago. I asked him about using cortisone on my face for the rash, and he said that was fine. Then he said, "I can't even see it. Are you wearing make-up (as he proceeded to put a big thumb print on my cheek)?" I told him I was. He laughed and said, "You're such a girl." Hmmm. Because I don't want a rash on my face? Because I was wearing make-up? Okay…
Every time I see my oncologist he talks about what a wonder drug Keytruda is. This time, without really thinking, I said, "I'd be dead without it." He said, "Yes, ma'am you would."
Wait… What?!!! Even though I knew it to be true, it was still a shock to hear the doctor say it. This drug was mostly being used for melanoma when I was initially diagnosed with lung cancer in 2015. And without it, I'd be dead. Considering the fact it's been 30 years since there's been a breakthrough in the treatment of lung cancer, the timing is pretty amazing.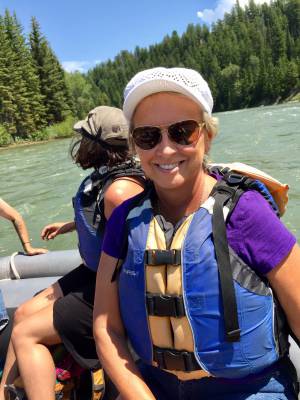 When we left the oncologist's office, we were pretty pumped. You see, Uncle Sam had been good this year about giving us a big chunk of our money back, probably in part to my medical deductions. So we decided we could either spend the money catching up on some of the medical bills or we could take a long vacation out west to see some of the national parks.
There was really no contest. We've spent the last two years doing almost nothing but going back and forth to doctors' offices, hospitals, and various other medical buildings. We needed a break from all of it.
And for the first time in two years, I actually felt well enough to take a vacation. We knew if something were to happen and I were to get sick again, we would regret not going. And if the Keytruda continues to keep the cancer at bay, will we then regret going? I know I won't.
When you're told you're dying, money becomes a non-issue. It just doesn't matter anymore. The only things I cared about as I was planning my own funeral last fall were my family and the experiences I'd missed out on. The trips we hadn't yet taken. The things I still wanted to do. The time I would miss with my family. Those were my biggest regrets.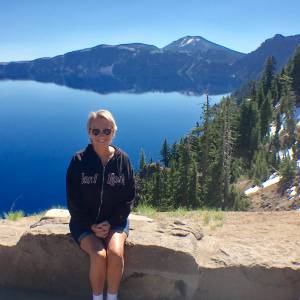 So when we left the oncologist's office, we took off. Our first stop was in Kansas City, where we stayed for a few days to visit with family. Then we went to the Grand Canyon, Las Vegas, Yosemite, San Francisco, Crater Lake, Grand Teton, Yellowstone, and Mt. Rushmore. We also stopped in Kentucky to visit with my aunt and cousins. We didn't plan ahead, and just stopped whenever we felt like it and did what we wanted to do.
At the first national park, I began to feel frustrated because I couldn't even do one-mile hikes, so we weren't able to see everything. It's not that I can't walk a mile. I'm just not very steady on rough terrain, and I still get winded on stairs and inclines. But I thought about lying in that hospital bed wishing I could someday take the trip I was actually taking now. And I decided to accept my limitations and be grateful for what I could see and do. After that, I enjoyed every minute.
Today we're completing a journey that's lasted 28 days and taken us more than 8,000 miles. We'll return home with beautiful photos and spectacular memories.
This week, we'll return to the seemingly-endless appointments in our journey toward recovery. But we'll be rested and ready to face whatever comes next.
Thanks for traveling with me.
Julie