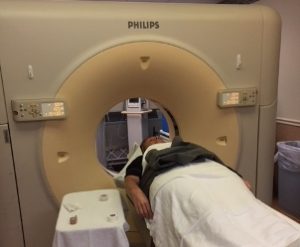 Last Thursday, I went to the oncologist to get the results of my most recent abdominal CT scan. My stomach tumor has grown by almost 50%. That came as no surprise to me because I'd been having abdominal pain off and on for the last few weeks. And over the past several days, the pain has increased in intensity and become more frequent. I told the doctor I was also having some pain in my liver area, and he said that was from the abdominal tumor pushing on my liver.
Based on the scan results (and there being no recent improvement in my sodium levels) the oncologist decided it was time to give up on the Tecentriq. It just wasn't working for me. Since I sort of knew that already, I've been looking at clinical trials at Moffitt.
Clinical trial outlines are pretty complicated, and there are so many that I might possibly be qualified for, so I asked my oncologist how I should go about getting started. He said to contact any of the clinical trial coordinators, tell them my situation, and ask for an appointment (at which time the doctor would tell me if they had any trials that might work for me).
Just a day or two before my appointment, I'd caught a news segment about FDA approval of a new targeted therapy for certain rare types of tumors, including those found in some lung cancers. So I asked my oncologist if I might be a good candidate for the new drug.
He said that drug was just one of many targeted therapies on the market, but none of them are for small cell lung cancer. Then he sort of started thinking out loud and mumbled something about my initial tumor being in my trachea (They have yet to find one in my lungs.) and said we should go ahead with the genetic testing. He also  ordered a biopsy of my stomach tumor because he thought it "might not be such a bad idea to make sure [I] actually have small cell lung cancer."
He fired all this off so quickly, I didn't really have time to process and react until after he'd moved on to the next patient. Between the low sodium, the chemo, and menopause (and the speed at which my oncologist thinks and responds), it took me some time to comprehend what he'd just said.
On the way home from the oncologist, I read through the results of my CT scan. In addition to the stomach tumor, it says something about a liver lesion, but that could just be scar tissue from a previous tumor. We can't know for sure unless I have another PET scan. In reference to the stomach tumor, it also says there's a "mass effect" on the adjacent structures, including the inferior vena cava (a large vein that carries blood from the lower and middle part of the body to the heart) and the pancreas.
I don't really know what a "mass effect" is, but the word "mass" never sounds good to someone who has cancer. So, of course I was left wondering if the cancer in my stomach is spreading. And that's when it suddenly hit me. My oncologist had said we were doing the genetic test and biopsy to see if I actually had small cell lung cancer!!!!
Was my oncologist now thinking the pathologist had made a mistake on my initial biopsy report? Could we have been treating the wrong type of cancer for more than three years now? If so, what type of cancer was he thinking I might have? Non-small cell lung cancer? Stomach cancer instead of lung cancer? Stomach cancer in addition to small cell lung cancer?
So (of course) I went to Google. My first thought was I couldn't have stomach cancer because the only type of cancer associated with SIADH is lung cancer. Right? So I googled SIADH. And I was wrong. SIADH is not only associated with lung cancer. It's also associated with cancers of the digestive system, which would include the stomach.
At this point, I'm trying to just go about my business as though I still have small cell lung cancer (which I most likely do). But it's tough not to think about the possibility of a cure if the initial pathology report was wrong. And of all the pain and suffering I may have been able to avoid had I been given the correct diagnosis three years ago.
But if I allow myself to think about any of that, finding out I still have small cell lung cancer will be a pretty big let down when it's all said and done. And I went back and forth about whether or not to include this part in my blog post for the very same reason. But it's part of my story. Cancer is full of ups and downs.
So for now I wait. I've already had my blood drawn for the genetic testing, and my biopsy is scheduled for tomorrow (12/5). After that, I need to call for an appointment with the oncologist to get my results.
That's all for now. Thank you for sharing my journey with me.
Julie