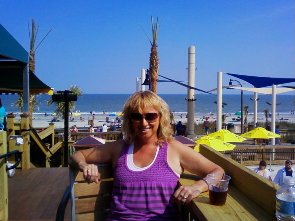 I've been out of the hospital for 3 1/2 weeks now! That must be a record for me, don't you think? Here's what's happened since then:
First I went to an appointment with my nephrologist. That appointment was already scheduled for four days after I got out of the hospital, so the doctor didn't really have much to say. He repeated what he'd said while I was in the hospital, which was that he'd never heard of anyone taking such a high dose of Samsca (60 mg/day). Even so, it seemed to be working so far. So he told me to stay on the same dose for now and to call him in a week (1/17).
On 1/13, I called the woman who's in charge of financial assistance at the oncologist's office. She had been working on getting me some help for the Keytruda (the immunotherapy drug I've been taking since stopping the chemo). Fortunately, she had good news. The company that makes the drug (Merck) had agreed to supply me with the drug for free for at lease a year! They're not even going to bill my insurance company. After the year's up, I have to re-apply to their assistance program.
On 1/17, I called the nephrologist again. My sodium had been slowly climbing and was up to 125. The doctor was shooting for 130, so he decided to keep my Samsca dose as it was for the time being.
By 1/20, my sodium was up to 128. On Tuesday, 1/23, I called my nephrologist's office to see what my sodium was (I had forgotten to call on Monday). It had jumped to 137 over the weekend! I asked if the doctor had any new orders for me based on my new rate. I was happy to hear the doctor wanted me to drop my daily Samsca dose from 60 mg to 45 mg. That was a happy day!
On 1/24, I went to see my surgeon. It had been 2 1/2 weeks since he'd done the last dilation on my esophagus. I told him I was still having trouble eating much of anything except for pasta and rice. I asked him if he thought that would improve. He said he thought it would, but he couldn't give me a definitive answer. "I've never done this type of surgery on someone whose esophagus was as damaged as yours," he said. "You're one of a kind."
The surgeon asked how my cancer treatment was going otherwise, so I told him about my sodium. He looked amazed and asked what the nephrologist thought about that. I told him what the nephrologist had said in the hospital about never coming across a case like mine before; he just shook his head.
On 1/25, I went to see my primary care physician. I told him I'd been out of the hospital for almost three weeks and I told him my sodium was up to 138 (which it was by then). He said, "Whoa! Where did that number come from?" I told him I didn't know but I was hoping the Keytruda was starting to kick in. The PCP said he'd never heard of anyone taking a Samsca dose as high as what I was taking and asked if my nephrologist had ever had a patient on a dose as high as mine. I told him what the nephrologist had told me in the hospital about being in uncharted territory, and the PCP commented about me being "case study material." I told him that's what I was hoping. As he turned to leave the room, the doctor said, "I guess not everyone fits the mold," and he almost sounded like he was breaking up a little.
On 1/30, I went to see the oncologist. When I told him about my sodium, he said he thought it was a good sign the Keytruda was working (he mentioned it before I did). He also said I would never believe how the drug had changed his practice. For example, he'd seen a lot of patients that "should be dead" completely recover from their diseases while taking Keytruda or Opdivo, which is in the same drug class. He also said his hope for me was that this time next year I'd be in his office begging him to take me off the Keytruda (that will NEVER happen!).
I had been experiencing a lot of muscle spasms, and I mentioned those to the oncologist. He said he thought the large doses of Samsca could be causing those and that I should mention those to the nephrologist.
Monday (1/30) was also the day for my Keytruda treatment (which I did right after my appointment with the oncologist) and for my sodium to be drawn again; it was up to 139. The nurse who draws my blood hadn't come out until late because of my morning appointments, so I wasn't able to reach the nephrologist that day to see if I could get my dose of Samsca lowered again. I left a message (including what the oncologist had said about the muscle spasms), and was told I'd get a call back tomorrow. If I don't hear something by noon, I'll call after lunch and ask to speak to the case manager.
I'm feeling rather optimistic right now, but I know better than to get my hopes up too high. On the other hand, I feel like I deserve to feel hopeful after all I've been through. So until someone tells me otherwise, I'm going to continue to believe the Keytruda is working and I'm going to be cured of this dreadful disease. Because hey, it could happen…