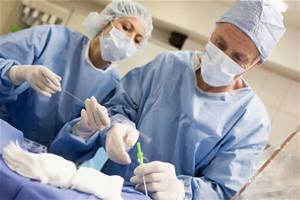 Yesterday, I had surgery to try to open my esophagus. The thoracic surgeon wasn't able to poke through from his end but the ENT was (yay!). I'll still need a few more surgeries to completely open it up but I should be able to at least swallow water now. I haven't tried yet because I'm in way too much pain.
The ENT told me I shouldn't have much pain, so she wouldn't give me any pain medicine. She said I could just take ibupofen. It's a good thing I had some pain medicine left over from my radiation therapy. We're going to have to talk about this again before my next surgery.
I woke up from surgery with a large nasogastric tube hanging from my nose (it goes down into my throat). I have to keep it in at least until I see the ENT again (next Tuesday) and maybe until my next surgery (2 weeks from now). I feel like an elephant with this thing dangling from my nose (it hangs down almost to my chest).
The numbness I had in my hands and arms is now also in my feet. Until I started taking the pain medicine, I also had pain in my arms. It's most likely chemnotherapy-induced peripheral neuropathy, which could be temporary or it could be permanent. I haven't had a chance to talk to my oncologist about that yet.
My feeding tube fell out yet again the other day (I think I've been through about 7 of them now). I tried blowing the balloon up, but it only lasted about 30 minutes before it deflated and the tube came out again. Last time we went to the ER for a new tube we asked for an extra. Since this one fell out after hours and I didn't feel like going to the ER I put the new one in myself. I also went online and ordered two more tubes. They said they needed an order for them, which I got, but that delayed shipment. I hope they get here before this one falls out.
That's it for now. Thanks for reading my blog. If  you'd like to help me with my battle with cancer, please go to https://www.youcaring.com/julie-mears-henry-495041.