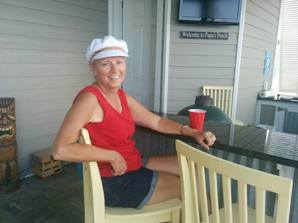 One year ago today, I went to the emergency room with shortness of breath. The doctor admitted me because my sodium was low and I spent the 4th of July weekend in the hospital. Little did I know that just a few weeks later, doctors would discover a deadly type of lung cancer in my trachea.
In what seemed like a split second, everything changed. I had 35 rounds of radiation therapy and six rounds of chemotherapy. I've had seven surgeries: one to insert a port for the chemo, one to insert a feeding tube, one to remove the tumor from my trachea, and four to re-open my esophagus (which was scarred completely shut from the radiation therapy). For six months, I had nothing to eat or drink. In just a few short weeks, I went from being  active and healthy to barely being able to get off the couch.
But you probably already know I've been through a lot in the last year. Here's where I am this year:
I've been cancer-free for about eight months (my last CT scan was a couple of weeks ago). My oncologist said I'll need new scans every three months for at least the first two years (the highest chance of recurrence for the type of cancer I had is within the first two years). My next scan is scheduled for sometime in September. After that, they should be able to spread them out a little more.
On July 15, I'll have another surgery to open my esophagus. I'm hoping after that one, we'll be able to spread those out a little farther, too. Fingers crossed.
I'm eating pretty well now. I still have a problem with red meat and with anything acidic. My throat pain has gotten better a point where I don't need the narcotics around the clock now (at least until the next surgery). But I haven't been able to get off them completely yet and I still need the ibuprofen.
When I wake up in the morning, everything hurts (from the nerve damage from the chemo). I spend a few minutes flexing my fingers and toes, then my arms and legs to get the circulation going. After that, only my fingers and toes hurt (they also feel numb, if that makes any sense at all). I'm still hoping the nerve damage will go away or at least get better. I'm told it could take several months, but it's already been going on since February. Exercise is supposed to help, so I've been trying to get back on the treadmill, but I'm not in the habit anymore, so I often forget. And when I do get on there, I can only stay on for about 15 minutes at a time. I assume that will improve over time.
I feel like have plenty of energy when I start out to do something, but I don't have much stamina. A few hours of anything is about all I can handle before feeling like I need to lie down. Sometimes I do, but most of the time I just try to keep going. I'm hoping the treadmill will help with the stamina issue, too.
My hearing is shot. I've decided I'm not quite ready to try a hearing aid yet; I'll re-think that next year when I have my hearing tested again. In the meantime, don't be surprised it I ask you to repeat  yourself (repeatedly).
It's a good thing I live in Florida because I always seem to be cold now except for when I have hot flashes, at which time I start peeling off the socks, jacket, and blankets. I'm not sure I'm ready to try hormone replacement therapy (HRT) for the hot flashes yet because of the cancer risk, so I'm going to ask my doctor if it's okay for me to try turmeric. If that doesn't work, I'll see what the oncologist says about the HRT.
So that's where I am a year after my first hospitalization. Yes, a lot has changed in the past year. But knowing how quickly life can turn around gives me hope. First and foremost, I have hope that this time next year I'll still be cancer-free. But I also have hope that I'll be able to look back and again marvel at what a difference a year makes. Only this time, in a good way.