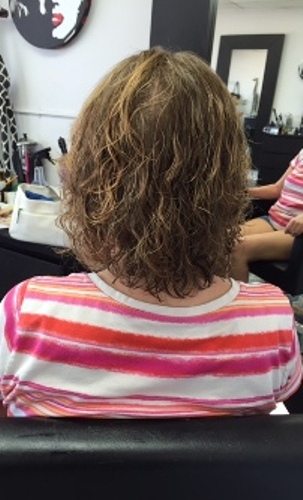 My oncologist told me I would begin to lose my hair in about three weeks. It's already been a week, so I figured it was time to get it cut. I know it will still be shocking when it starts falling out, but maybe not as much so since I don't have as much to lose.
I went back to the same stylist I went to last time because I finally found one I liked. When she was finished with my cut, I reached for my wallet, but she wouldn't let me pay her. I tried to argue with her, especially since she doesn't even know me, but she wouldn't hear of it. So I cried. That was so unbelievably kind of her.
The effects of last week's chemo lasted for about five days. I still don't feel well and am tired, but my brain seems to be functioning again and I don't feel like I need a nap every few hours. I have two weeks off between treatments, so at least I know I'll have some good days along with the bad.
I forced myself to get on the treadmill for 20 minutes this morning. I figure it can only help.
Radiation therapy still hasn't started. I got a call from the radiation oncologist's office today asking me to come in tomorrow for my "final x-rays" so I can start therapy on Thursday. I'm a little annoyed because this is the doctor who was telling me I needed to get started right away and if I missed one appointment the world would come to an end. Now he's the one holding up the show.
I went to have my blood drawn today and discovered the order was for tomorrow (oops). They would have gone ahead and done it today, but since I'll be right around the corner from there tomorrow, I told them I'd come back.
My surgical site is infected. No real surprise there since they started using it the day after my surgery and the woman at the oncologist's office had to stick me four times last Thursday in order to gain access. The oncologist gave me an antibiotic yesterday, and it's starting to look at little better.
Eating has become a bit of a chore. Nothing sounds good and a lot of things that used to taste good don't anymore (cheesecake tastes like metal). But I'm forcing myself to take in as many calories as possible in preparation for the days ahead when swallowing is likely to be difficult.