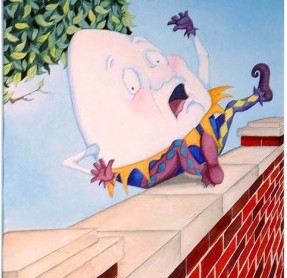 Lately, I've been feeling a bit like Humpty Dumpty. The doctors blew me apart trying to get rid of my tumor and now they don't seem to know how to put me back together again.
A couple of weeks ago, I went in for a blood transfusion. I was actually happy about that because the last time I had one I felt better for a few days. Since I went in late, I spent the night in the hospital. At around 2:00 a.m., I woke up with chest pain. The nurse called my doctor and he told her to give me some pain medicine. The pain went away.
The next day, I was having chest pain again while I was at the oncologist's office. He sent me to the ER. The ER doctor said he thought I'd had a mild heart attack, so they admitted me. Over the next few days, they ran some tests and decided the chest pain had been caused by anemia from the chemotherapy. So they gave me another blood transfusion.
My white blood count was also next to nothing, so I pretty much had no immune system. There was nothing they could do for that except keep an eye on my numbers and monitor me for potential infections.
While I was in the hospital, they decided to try to get me off the TPN and onto a continuous tube feeding. It took some time, but they finally got me up to the infusion rate they were looking for.
I was also evaluated by speech therapy while in the hospital. I passed their swallowing study, so they tried to let me eat soft foods. It was extremely painful and I was still choking, so they gave me some swallowing exercises to do to help strengthen the muscles and told me to stick with the tube feeding for now.
After two weeks, I was released from the hospital. I missed my most recent round of chemo, so it is rescheduled for next week. The plan was for home health care to take over and for me to have a feeding tube and an IV antibiotic at home.
I received  multiple phone calls the day of my release. Two home health companies were childishly fighting over who got to do my IV antibiotic. So the one that my insurance company had actually approved to do it backed out. It took me several more calls to get that straightened out, but someone eventually came out to show me how to do it.
The company that brought out the feeding tube pump was also supposed to teach me how to use it. When the courier showed up with the supplies, he was clueless. So I waited until the next day and had the home health nurse show me. A few hours after I hooked it up, I started having severe stomach cramps, so I shut it off. Since it's a holiday, I've gone about 2 1/2 days with no food.
In addition to not being able to eat or drink anything and having stomach cramps, I still have pretty severe throat pain, and am coughing up phlegm all day long. These are the things that nobody seems to know how to fix. So I'm left trying to figure out how to get my life back, which would be no easy task on a good day, but feels nearly impossible while I'm this ill. Thankfully, my sister has offered to help me sort through this.
I started off the day with a small pity party. It's Thanksgiving and I can't eat, so I felt entitled. But it was a beautiful day outside and I was happy to be going to Vero Beach to see my dad and my sister, even if I had to skip the actual meal. And as the day went on, I began to realize I do still have things to be thankful for. My tumor is gone. If it had been in my lung instead of my trachea, it would likely have spread before it was found. I also have a family that loves me. And so many people, many of whom I don't even know, have been kind enough to pray for me. So thanks to all who have been praying and to those who have cared enough to read my blog.