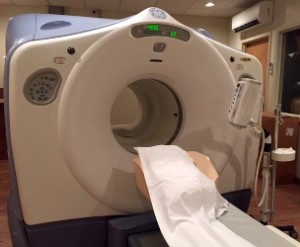 On Monday, I went to the cancer center for my PET scan. When I got there, I had to go upstairs to get my port accessed, then back downstairs for the scan. The technician injected me with a radioactive substance, after which I sat in a small room alone for an hour waiting to become "radioactive."
The test itself took around 20 minutes. Then came the long wait to see what my future would hold. My scanxiety was pretty high for a couple of days.
On Wednesday, I went back to the cancer center for my Keytruda treatment and to see the oncologist. Again, I went upstairs first, this time to get my port accessed and my blood drawn. Then I went back to see the oncologist, dreading the news I had pretty much been expecting since my sodium had started to drop again.
And I wasn't wrong. After almost a year and a half, my cancer had found its way around the Keytruda. As of now, I have just one enlarged lymph node in my stomach, but it's malignant. The doctor said there were three options: 1) have the tumor removed (which nobody will actually be willing to do since another one will just pop up somewhere else; 2) radiation to my stomach; or 3) chemotherapy again.
I asked the doctor which he would recommend, and he said chemo. After my last two rounds of chemo, I'd sworn to never do it again, and a part of me thinks all this is useless and t's time to just throw in the towel. But giving up isn't really in my nature, so I numbly agreed to the chemo.
I also asked what kind of odds there were the chemo would work, and he said 50/50. But I know he's only talking about getting rid of this one mass. There's really almost no chance that another tumor won't pop up somewhere. So I may look into clinical trials and see if there are any new drugs that are showing promise.
The chemo I'm going to be getting is called VinORELBine. The oncology nurse said it wouldn't make me lose my hair again (Google does not agree), and it wouldn't make me as sick as the original chemo. I have my doubts. I was given four weeks off, after which I'll go once a week for treatment. I'm not sure for how long. I'll ask next time I go in.
On the plus side, my sodium's holding pretty well for now. It's been almost a week since I had Samsca. I'm supposed to take one tomorrow and have my blood checked again on Tuesday. If it starts dropping faster than it has been, I may move up my chemo.
Since it looks like I'm running out of options, I decided to also try some alternative treatments. A lot of people on my small cell lung cancer support group swear by CBD oil. Again, I have my doubts, but since medical marijuana is legal in Florida, I asked my oncologist about it. He said, "Try it," and referred me to another doctor who's certified to prescribe it. I'll see him next Wednesday. In the meantime, I'm still doing research on other alternative treatments and on cancer diets. At this point, what have I got to lose?
The only problem with trying to find clinical trials and alternative treatments, and eating a healthier diet, is all that takes time and energy. And enrgy is in short supply. I slept for 10 hours last night, then took a nap about two hours after I got up. I've also been nauseated for most of the day. So I've accomplished very little.
That's all I've got for now. Thanks for sharing my journey with me.
Julie