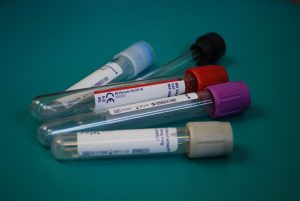 Every time I go for my Keytruda, they do what's known as a BMP (basic metabolic panel). It's a group of labs that includes (among other things) my sodium and my eGFR. I also have a BMP done once a month for my nephrologist. Anyway, every time I have one done, I call within the next few days to get the sodium and eGFR results.
My last Keytruda appointment was on April 4. I called on April 6 for the lab results. My sodium was 129, which is the lowest it's been in almost a year. Not good. The eGFR was 70, which is pretty good, so my kidneys are functioning well right now.
Since I didn't like the way my sodium had dropped since I'd last had it checked, I decided to lay off the regular water and go back to just the Propel electrolyte water, even if it meant my kidneys wouldn't function as well. I was hoping that would make my sodium go up again.
On April 10, I had my sodium checked again. I tried to call shortly before 5:00 that day to get my results, but they'd already switched over to the answering service. Around ten after five, a doctor from my nephrologist's office called. She asked how I was feeling, and I told her I was feeling okay. Then she asked if I was lightheaded or nauseated. I knew where she was going with all this. I'd had headaches and some minor nausea for the last several days, and this wasn't my first rodeo.
I told her about the headaches and the nausea and said, "I'm guessing you're calling to tell me my sodium is low." She was. And this time it was "dangerously low" (123). The SIADH had again reared its ugly head.
I knew the doctor was about to tell me to go to the ER, so I quickly told her my regular nephrologist normally had me take some Samsca when my sodium got really low. She seemed a bit taken aback, but asked if I had some at home (It's not very common for patients to take Samsca at home.). I assured her I did, and she told me to take 15 mg and go back the next afternoon for labs.
The next day, I called my oncologist's office and left a message about the sodium and the fact I'd had to take Samsca for the first time in almost a year. My oncologist has always said my sodium was the best indicator of whether or not my cancer had come back, so I was pretty sure the Keytruda had stopped working and I had some cancer somewhere.
When the oncologist's nurse called back later that day, she said he was going to order a PET scan. I reminded her the last time he'd tried that, my insurance company denied it. She said we had more evidence this time that I needed one, and the doctor was willing to talk to the insurance company's doctor if need be. They're also planning to do an MRI of my brain, so that and the PET scan should pretty much cover everything.
I also went to have my sodium re-checked.
The scheduling department called the following day. The first available date for my PET scan was April 23. They couldn't get me in for the MRI until May 9. The doctor also forgot to write an order for them to use my port for the PET scan, so now I have to call back and get the order and make a separate appointment to have my port accessed before my scan.
That afternoon, I called the nephrologist's office to get the results of my most recent sodium check and find out what I needed to do about the SIADH going forward. Once my sodium starts dropping, it doesn't stop until my oncologist finds a new medication to control the cancer, and the oncologist isn't going to make any decisions until he gets the results of my scans. So it's going to be a balancing act.
I talked to the office manager, and he said my sodium was 136, which made absolutely no sense to me at all. I've never had my sodium climb that high overnight. The office manager agreed it was odd and suggested the low reading from the day before might have been a lab error. Seriously? After all this? He told me to have my labs re-checked on Monday, which I did.
On Tuesday morning, I got a call from the nephrologist's office. My sodium was 118 on Monday, so there's no mistake. The Keytruda isn't doing its job anymore. It's disappointing to say the least, but that's the nature of this beast. The type of cancer I have is relentless.
I don't know where I go from here. I'm scheduled to have my treatment and see the nephrologist on the 23rd. He should have the results of my PET scan by then (if my insurance company doesn't deny it).
As of now, I was told to take the Samsca today and tomorrow and have my sodium checked yet again on Thursday. If I end up having to take the Samsca every day, I've only got enough left for about three weeks. Then I'd have to let my sodium drop and be admitted to the hospital to get more.
That's all of now. Thanks for sharing my journey with me.
Julie