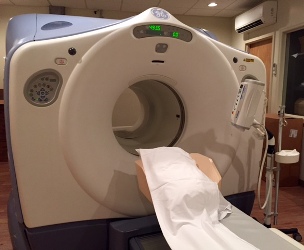 My alarm was set for 7:45 this morning, but I woke up at 7:00 and knew there would be no going back to sleep. My first appointment was at 9:30 for my PET scan.
When I got there, they stuck an IV in my arm and shot me full of a radioactive substance called a tracer, which helps to show any abnormalities in your organs or any cancerous cells.
Since it takes an hour for the tracer to spread throughout the body, they took me into a room with recliners and gave me a blanket. I still couldn't sleep and was kicking myself because I left my book at home even though I knew in advance I would be waiting.
They were scanning me from head to toe, so they had to put me in the scanner twice: once head first; the other time feet first. The first scan took about 25 minutes, during which time I was asked to lie perfectly still. It ended about the time I was beginning to think I was going to get bed sores. The second scan took about another 15 minutes.
When I was done with the PET scan, I drove home, grabbed a sandwich on the fly and John took me to the oncologist's office. The doctor doesn't normally see patients on Fridays, so we were the only ones there except for some staff members. After 30 minutes of filling out paperwork, we went in to see the doctor.
The doctor spent quite a bit of time going over the history of my illness and shaking his head at the idea that it took three hospitalizations for me to end up in his office. He was also surprised that I had only been told yesterday that I had cancer. He asked me what I knew about my diagnosis and I told him I wasn't entirely sure if I had small cell lung cancer, which I know is an aggressive form of cancer, or a lung carcinoid tumor. It turns out it's not really either of those but has some similarities to both.
Apparently, small cell neuroendocrine carcinoma, which is what I have, is an extremely rare form of lung cancer. That's why the doctors had such a hard time diagnosing it. It's a very slow-growing cancer, so I've likely had it for years.
Anyway, here's the plan. The first step is staging. Based on my other imaging studies and the preliminary results of the PET scan (the full results won't be in until next week), the doctor thinks my cancer is most likely a Stage I, which means it hasn't spread. To make a final determination, he ordered an MRI of the brain (which he scheduled for today) and a bone marrow biopsy. He also ordered some more blood work and is getting a second opinion from an independent organization on the biopsy results to make sure we're treating the right thing.
As of now, the doctor said he has no reason to believe this won't be completely curable, but there are, of course, no guarantees. The cure is four months of chemotherapy and radiation therapy.
After the consultation, the doctor sent me out to talk to his staff and asked them to make several appointments for me. One was for the bone marrow biopsy, one was to have an IV port implanted in my chest for the chemotherapy and future blood draws and one was to meet with the doctor that does the radiation therapy. As I stood at the desk, my head spinning, the staff members handed me some paperwork for today's MRI, then began making phone calls and handing me cards with doctors' names and appointment times written on them.
I took the cards and the paperwork for the MRI and was getting ready to go back to the imaging place to have the test done when someone reminded me they needed blood. My veins are almost completely shot from three hospitalizations and multiple blood draws, so they had a hard time finding a good one. By the third miss, I was so overwhelmed I just sat there with silent tears streaming down my face as I waited for them to try again. Fortunately, the woman who stuck me the fourth time remembered I was also going to need an IV for the MRI, so she went ahead and inserted it, then used it to draw my blood.
The MRI was a lot like the PET scan, only it was louder and I didn't have to wait for an hour for the contrast to go through my body. When the test was over, we went back to the doctor's office for the results. Thankfully, he saw no signs of cancer in my brain.
Next week, I have a bone marrow biopsy scheduled for Monday, an appointment with the doctor who does the radiation therapy on Wednesday and an appointment to have the IV port inserted in my chest on Thursday. In the meantime, we'll be getting a second opinion on the biopsy results.
Needless to say, this is all quite overwhelming. But almost as equally overwhelming is the outpouring of support I have received from family and friends, some new, and some that I haven't seen for many years. I can't tell you how grateful I am for your prayers, words of encouragement, cards, gifts, texts, phone calls, etc. And a big thank you to my best friend who offered to send me wigs and doo-rags the minute I said the word "chemo."