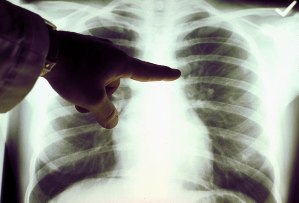 This morning I got a call from my primary care physician's office (I really need a new one of those). The woman on the phone said my doctor had spoken to my surgeon and they wanted me to go for a PET scan. I asked what the scan was for and she said it was to "look for any cancer." So I said, "Are they wanting to see if the cancer has spread? Because I haven't even gotten my biopsy results yet." Silence. Then, "I'm going to have to call you back."
About an hour later, she called back and said the doctor wanted to speak to me (that's never a good sign). The doctor told me my biopsy results came back and I have small cell neuroendocrine carcinoma, which is a form of lung cancer. I was expecting him to tell me I had some sort of cancer, but lung cancer? He just told me a few weeks ago I did NOT have lung cancer. But that's not the only thing he's told me that's been inaccurate.
The first question that comes to mind when somebody tells you you have cancer is, "Why me?" But the obvious answer is, "Why not me?" More than a million people are diagnosed with cancer each year, so what makes me so special?
Since lung cancer is a particularly bad type of cancer, I instantly assumed I was a dead woman walking. But I somehow managed to drag myself into the kidney doctor's office for my follow-up appointment that I already had scheduled for today.
I told the doctor about my biopsy results, which he hadn't seen yet. I also asked him if the type of cancer I have is aggressive and was surprised when he said "not necessarily." According to him, some endocrine tumors are slow growing and quite curable. So I still have hope. At least until tomorrow when I go for my PET scan and to see my oncologist.
The kidney doctor also said if my sodium is still good after today's labs (no results yet), I can begin drinking some water again instead of just Gatorade. And he lifted my fluid restriction so I can have up to 8 glasses of fluid per day again. It will be a relief to stop measuring every single thing I drink.
When I got home from the doctor I took to Google to see what more I could find out. And I found this. http://www.cancer.org/cancer/lungcancer/index
When I first heard the biopsy results I was thinking I had small cell lung cancer, which is a very aggressive type of cancer. Now I'm thinking it's more probable that what I have is a lung carcinoid tumor, which if I have to have cancer, seems to be a much better option. But I'll know more tomorrow.