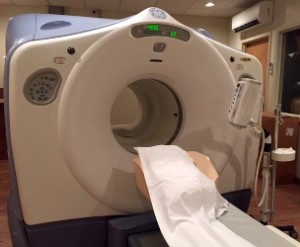 You may not be familiar with the word "scanxiety," but it's one with which most people who have cancer are well acquainted. There's no official definition, but I'm sure the word itself gives you the gist of it. I'll try to give you a clearer explanation from my point of view, and from that of others who have been through it.
All cancer patients need periodic scans during their treatment and for several years after they've been declared cancer free. In some cases, a positive scan means there's little to no hope of survival.
I think New York Times best-selling novelist and lung cancer survivor, Bruce Feiler, described Scanxiety best in an article published in Time magazine. "Scans are like revolving doors, emotional roulette wheels that spin us around for a few days and spit us out the other side," Feiler said. "Land on red, we're in for another trip to Cancerland; land on black, we have a few more months of freedom."
Although Feiler's definition is good, it seems for most people the scanxiety actually starts when the doctor says the word "scan," and continues until the results are in, which can be much more than a few days. Then they can relax until the oncologist mentions that dreaded word again. For me, it's not like I'm in a constant state of anxiety. It's more of a "what if?" in the back of my mind that I don't think will stop until the scans do, if even then.
You may have guessed by all this Scanxiety talk that it's about time for my spin on the wheel (another PET scan). In my case, if I land on red, there are no more treatment options of which I'm aware. But it's always possible my oncologist has another trick or two up his sleeve. He doesn't believe in talking about "what ifs."
The earliest I could get in for my scan was September 29. I'm not sure yet when I'll get my results, but I'll find out when I see my oncologist on Wednesday.
I'm telling you all this with the hope that if you know someone who has cancer, you can better understand why they don't seem to be as confident as you are that their next scan is no big deal. It's not that we aren't trying to stay positive. We've just lost our sense of security, and the fear never seems to completely subside.
Thanks for sharing my journey with me.
Julie