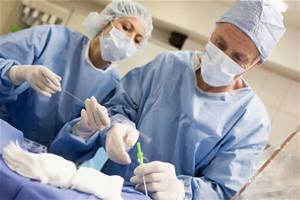 I've spent the last week working with the radiation oncologists to try to control the pain from the radiation therapy. They started out giving me Tylenol 3. That did next to nothing to ease my pain, so I added in some ibuprofen. Since it's an anti-inflammatory, it made sense to me that it would help. And it did. Some.
But even the two together didn't seem to be doing the job, so they decided to try a fentanyl patch. I knew fentanyl was a strong medication. What I didn't know was that it comes in three different strengths. And they gave me the strongest (75 mcg). It did help with the throat pain, but it made me so sick I couldn't get out of bed the next day without dry heaving, even after taking an anti-nausea pill. I was supposed to keep the patch on for three days. I ripped it off around 15 hours after I first put it on and went back to the Tylenol 3/ibuprofen. I was sick for most of the day that day.
When the queasiness subsided and I was able to eat again, I began to realize I was aspirating (at lease some of what I was swallowing was going into my lungs instead of my stomach). This can cause pneumonia, which I definitely do not need. The only way to fix it is to insert a temporary feeding tube, which can be used for nutrition and medications. Since that should also help with the pain, I'm okay with that at this point.
Once the decision had been made to put the tube in, the radiation oncologists switched me to a low-dose fentanyl patch (25 mcg) and sent me to the oncologist to coordinate the feeding tube insertion. He gave me some fluids, ordered some lab work, and told me to take ibuprofen every 6 hours in addition to the patch (that seems to be keeping the pain pretty tolerable for now). He also set up an appointment with the surgeon.
I met with the surgeon this morning. He's the same one who put in my port. It sounds like a pretty simple procedure, but I'll have to spend one night in the hospital. I'm still waiting for a call to find out what time my surgery is tomorrow (probably early afternoon).
I was able to schedule my radiation therapy for early tomorrow morning and then late Wednesday afternoon so I won't miss any treatments (today is number 18 out of 35). I was happy about that at first, but then my oncologist decided to tell me that the pain from radiation is going to get a lot worse before it gets better. Why do people say stupid things to you when you're sick? I really didn't want to know that.