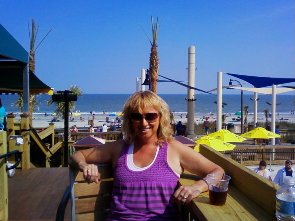 Last week, I got fed up with fighting the ENT over pain control. So I contacted a patient advocate who called my oncologist. The oncologist referred me to a pain specialist, but he's not available until May 3. In the meantime, she gave me a prescription for pain medication that will last me until my appointment; she also increased the frequency from six times a day to four times a day. I still have pain, but between that and ibuprofen, it's now a lot more tolerable.
I've actually been able to swallow some food and liquids (yay!). It hurts like crazy, but so far I've had water, Jello, applesauce, chicken noodle soup, fruit and yogurt smoothies, blueberry muffins, graham crackers, fried rice, and half an oatmeal cookie. I can only eat a few bites at a time, but I try to do as much as I can every time I take some pain medicine.
Yesterday, I saw the ENT. She said I need at least two more surgeries and probably more. The next one is scheduled for 8:00 a.m. next Friday (4/22). She also scheduled one for 8:00 a.m. on 5/18. Since we'll have to be there at 5:30 a.m. and it's an hour and a half away, we're going to try to find a cheap hotel in Orlando and stay over the night before.
I asked the doctor about the spot on the CT scan and she said she didn't see anything unusual during my surgery. She said it's possible there could be something very small there that's hiding, but she will continue to check every time she does another procedure. So good news for now!
The doctor seemed happy with what I've been eating except she wants me to eat more and try to add in some pasta. I bought some today, so we'll see how that goes.
I chose a picture of happier times for this post since things seem to be looking up.