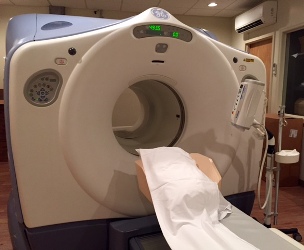 Today I went to Orlando for my CT scan, after which I saw my oncologist. The CT scan showed some abnormal tissue in my neck, but the oncologist said she's not too worried about it right now. It's very small and she said it could be inflammation from my surgery. She also said they frequently find abnormal tissue in people who have been treated for cancer and a lot of times it turns out to be nothing (I guess it's a late effect of the treatment).
Another reason they weren't real worried is it hasn't been that long since my last surgery and the ENT didn't see anything with the scope. Since I'm having another surgery next Monday, they've asked her to take a look and if she sees anything suspicious to do a biopsy.
I'm trying not to worry about it too much, but it's hard not to when your oncologist says "abnormal tissue" and "biopsy". On the other hand, my throat is still really sore from the surgery, so it wouldn't surprise me if there's some inflammation in there.
Surgery is scheduled for 10:30 on Monday.
That's it for now. Thanks for reading my blog. If  you'd like to help me with my battle with cancer, please go to https://www.youcaring.com/julie-mears-henry-495041.